STEP BY
STEP
Selling a home is a complicated process, but we will guide you through it every step of the way.

Step 1 – Pricing
Prepare comparative market analysis (CMA)
Review market conditions
Review other homes on the market
Discuss your home-sale goals
Determine the optimal listing price

Step 2 – Preparing
Remove clutter and organize
Clean and make repairs
Stage your home for sale
Consider a home protection plan
Complete listing documents and disclosures
Create a Transaction Manager account to manage documents, deadlines and tasks

Step 3 – Marketing
Install distinctive Coldwell Banker yard sign
Promote your home on the MLS
Syndicate your home's listing on hundreds of websites
Respond to online buyer inquiries through InTouch
Arrange showings
Hold open house
Communicate feedback
Market your property via email, direct mail and social media
Provide market updates

Step 4 – Closing
Evaluate offers and negotiate best price and terms
Enter documents into Transaction Manager
Facilitate inspections
Coordinate closing date, time, location and contacts
Monitor buyer financing and home appraisal
Follow up on details
Review closing statement
Close the sale
Provide copies of all closing documents and enter into Transaction Manager
STAGING
TO SELL
A home that looks its best is more likely to sell faster and for a better price. Here are a few tips from the experts for preparing your home for market and staging it for showings.
Outside
Repaint or touch up trim Make needed repairs
Wash windows and screens Trim trees, hedges, shrubs
Weed and feed lawn and maintain mowing
Entrance
Check doorbell and replace light bulbs Put out new welcome mat
Clean, repair or repaint front door Sweep walkway
General
Replace burned-out light bulbs Clear out closets
Eliminate clutter
Neutralize and depersonalize
Rooms
Touch up or repaint walls, trim and ceilings Clean or replace carpeting
Clean curtains, shutters and blinds
Clean fireplace, mantle and surrounding areas Update décor – throw pillows,
bedspreads, towels
Kitchen & Bath
Clean appliances inside and out
Clear out and clean cabinets, drawers and pantry
Clean, repair or replace faucets and fixtures Declutter counters
Regrout sinks, tubs and showers
Before Each Showing
Pick up toys and clutter
Clear off counters and tabletops Turn on lights
Make beds
Make sure home smells inviting
Set thermostat to comfortable temperature
FIX IT UP WITH
NOTHING UP FRONT
With a home in top condition, you can help maximize your selling price with no payment until closing.
The RealVitalize® program helps with home improvements and repairs to prep your home for sale. We pay the up-front costs and you don't pay us back until closing. No hidden fees, interest charges or markups. Most homes using the RealVitalize program sell at or above list price*.
Use the RealVitalize program to help with:
Painting
Staging
Room Renovations
Flooring and Carpentry
Cleaning
Handyman Services
Electrical
Plumbing
Landscaping/Curb Appeal
Moving and Storage
And much more!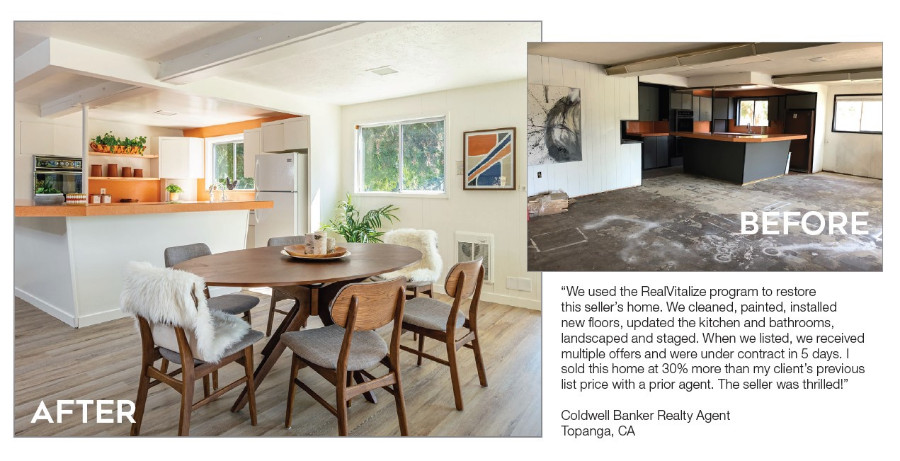 To learn more, visit RealVitalize.com.
*Based on program data from June 1, 2020 to May 31, 2021. Not a controlled study; correlation does not equal causation. Results not guaranteed and past performance does not guarantee future results.
Execution of a program agreement is required. RealVitalize is not available in all states and available only at participating offices. Void where prohibited by law. Additional terms and conditions apply. Results not guaranteed. If listing doesn't sell within 12 months from the first project completion, seller must pay back the full amount of covered services. All property enhancement services are provided by the applicable service providers affiliated with Angi. Neither the Coldwell Banker System nor any of its respective franchisees or affiliated companies is providing any property enhancement product or service in connection with the RealVitalize program. Not intended as a solicitation if your property is already listed by another broker.
Affiliated real estate agents are independent contractor sales associates, not employees. ©2021 Coldwell Banker. All Rights Reserved. The RealVitalize logo and service mark are owned by Realogy Group LLC. Coldwell Banker and the Coldwell Banker logos are trademarks of Coldwell Banker Real Estate LLC. The Coldwell Banker System is comprised of company owned offices which are owned by a subsidiary of Realogy Brokerage Group LLC and franchised offices which are independently owned and operated. The Coldwell Banker System fully supports the principles of the Fair Housing Act and the Equal Opportunity Act.
PRICING
RIGHT
While we'll work together to set your home's asking price, the buyer will set the sales price. If you price your home too high, you'll miss out on potential buyers. Pricing your property at fair market value, from the start, will generate the most activity from real estate agents and home buyers. The price must attract enough attention to result in showings and offers.